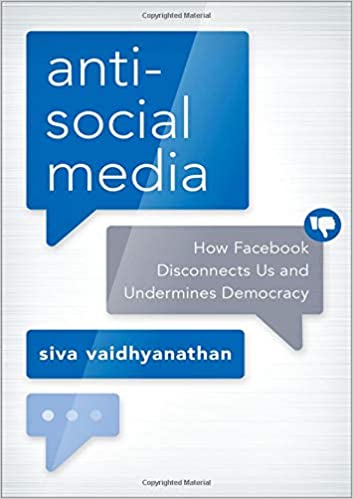 A detailed look at the variety of ways in which Facebook naively created conditions destructive to democratic societies.
Chapter 1 launches the book with a roaring indictment of Facebook and its leadership.
Chapter 1 explains how Facebook conditions users through constant low-level feedback, much like the design of a casino floor holds gamblers.
Chapter 2 takes up the issue of surveillance, arguing that Facebook operates the most pervasive system of surveillance.
Chapter 2 explores the relationship between the state and Facebook when it comes to sharing data. This would be a good chapter for the section on privacy in the Data, Learning, and Society course.
Chapter 3 provides good coverage of the relationship between social media and news.
Chapter 4 discusses the role of the corporation and contrasts the positions of Burleigh and Dodd on that point. Connect the discussion of Burleigh to discussion of Burleigh by Nick Lemann in Transaction Man.
Chapter 5 examines the role of Facebook in protest movements and offers a more nuanced view than the popular idea that Facebook plays only a positive role.
In Chapter 6 the point is made that Facebook is a tool for motivation but not deliberation.
Facebook embeds staff in political campaigns and does all the targeting itself. They serve as political consultants. Rana Farhoo makes the same point about Facebook and Google supporting campaigns.
The concept of information fiduciaries imagines organizations that have fiduciary responsibilities for care of our data.
Facebook has drained funds from the news organizations we depend on for democracy.
Facebook has supported regimes in the Philippines, Cambodia, India, and Myanmar.
Can anti-trust be used to break up Facebook?