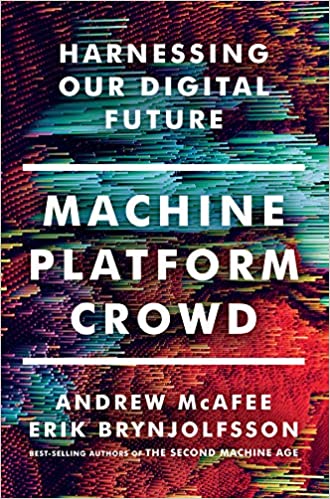 An examination of the growing importance of machine learning and the displacement of human labor, the central role played by platforms  that join producers and consumers, and the crowd-sourced resources that are increasingly available beyond organizational boundaries. 
Chapter 2 is a good reading for the institutions section of the Data, Learning, and Society course.
Chapter 3 provides a good discussion of the AI camps.
Chapter 5 includes discussion of the use of Watson to generate new theory and hypotheses. This could be very useful for thinking about the future of research.
Chapter 6 includes a good discussion of changes in publishing and the music distributed through the network.
Chapter 7 covers platforms and highlights the iPhone and apps as an example worth considering for a possible educational application.
Chapter 8 includes the examples of ClassPass, Postmates, and Rent the Runway.
Chapter 9 considers products that stay off platforms. Soul Cycle, ClassPass
Chapter 10 covers Linux as crowd sourced development.
Chapter 11 on decentralization and innovation,
Chapter 12 includes a discussion of block chain as a decentralization strategy
Chapter 13 highlights some advantages of companies