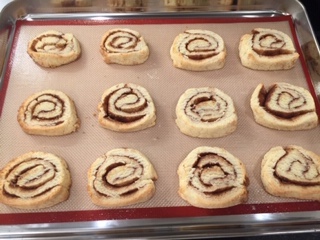 Cinnamon Role Cookies
Ingredients
Cookies
3
cups
Flour (plus more for surface)
Filling
¼
cup
Brown Sugar, Packed
Glaze
Directions
Heat oven to 350 degrees.
Line two baking sheets with parchment paper.
Whisk together flour, baking powder, and salt.
Beat butter and sugar together until fluffy and pale in color.
Add egg, milk, and vanilla and beat until combined.
Add flour mixture gradually until totally combined.
Divide dough into two parts. On a floured surface, roll each piece of dough into a 9 inch by 10 inch rectangle, about 1/4 inch thick
Combine brown sugar and cinnamon in a small bowl.
Brush dough rectangles with melted butter and sprinkle with sugar mixture.
Roll up each rectangle into a tight log.
Slice the logs into 1/2 thick slices and transfer to prepared baking sheets, spaced 1 inch apart.
Bake until lightly golden, 12 to 14 minutes.
Let cool on sheets for 5 minutes.
Combine powdered sugar with milk and drizzle over cookies.